NashTech recognised as one of the Top 10 ICT Companies in Vietnam

On 9th October 2021, NashTech was recognised as being one of the top 10 ICT companies in Vietnam 2021 awarded by VINASA (The Vietnam Software and Information Technology Services (IT) Association). This year saw an exciting new category, digital transformation, and we are delighted to be recognised in this and two other categories.  
In total, NashTech has been recognised as one of the Top 10 ICT companies in Vietnam in three categories:  
Digital transformation 
Software development 
Business process outsourcing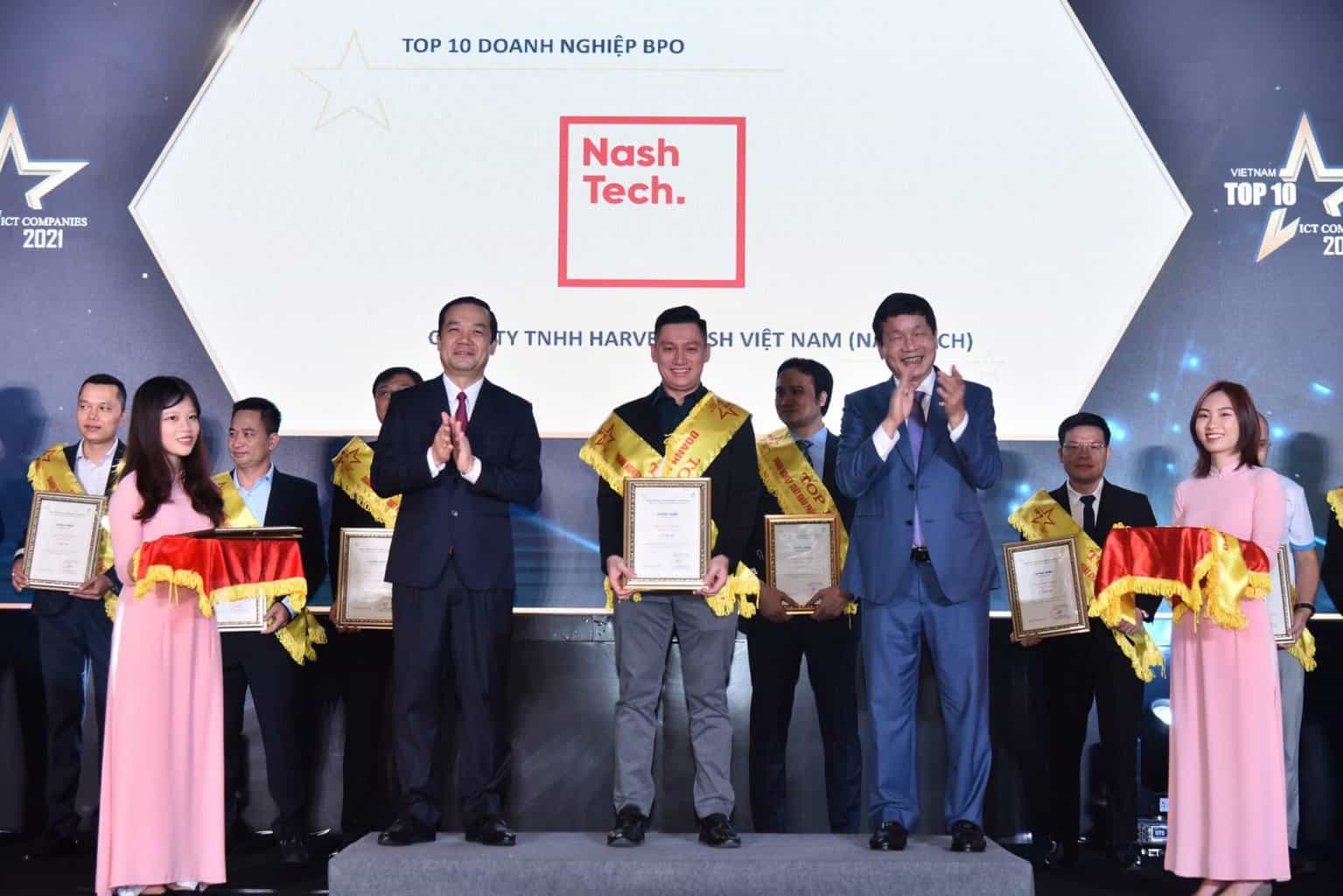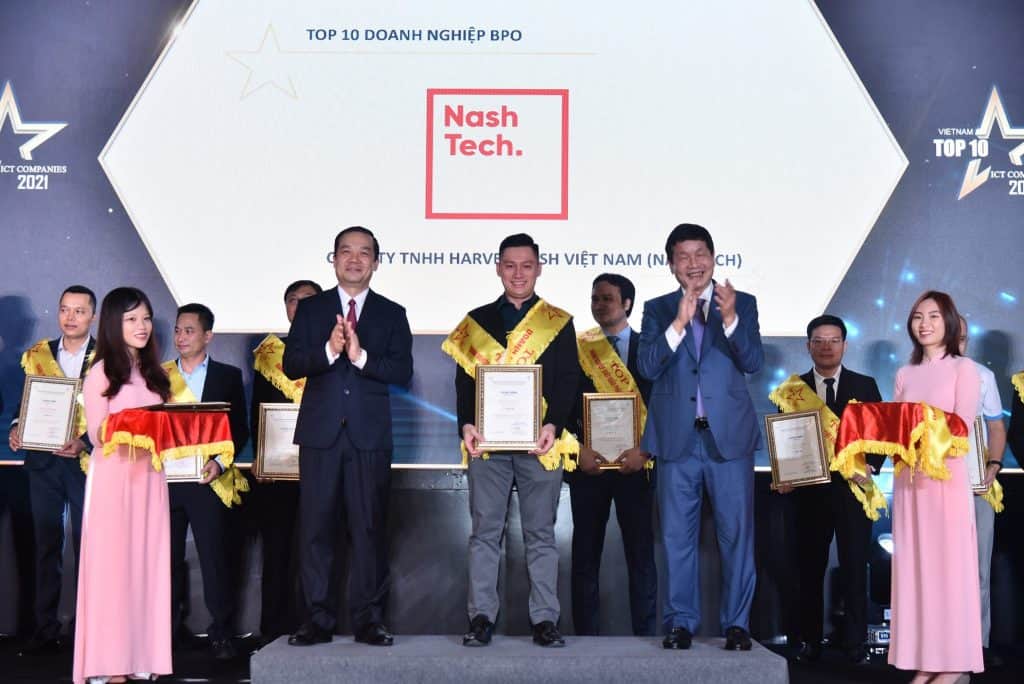 Mr. Son Bui, representative of NashTech receiving award for Top 10 ICT Companies in BPO in Vietnam
In 2021, the organisers decided to add more categories and so formed 18 categories in four groups:   
traditional software and IT  
digital transformation prioritised   
companies with new technology potential   
startup companies 
The reason for having more categories this year is because of the rapid growth of the IT market in Vietnam, which has brought more opportunities for companies, across the industry.  
To be awarded the title, participants had to pass three rounds, including:  presentations, practical appraisal and general selection. They were then evaluated through seven main criteria including: finance, human resources, products, technological capabilities, governance, achievements and additional industry-specific evaluation criteria.
In the era of Digital 4.0, the demand for digital transformation increased rapidly among global businesses. It helped leaders to productively operate their systems and manage resources efficiently. Therefore, the finalists for this category are important for bringing the most innovative technologies to clients and supporting them on their digital transformation journey. Realising the importance of digital transformation, NashTech continuously puts efforts into developing our technologies and strengthening our capabilities to deliver innovative solutions for our clients.     
Winning the award in the top 10 ICT companies in Vietnam 2021 is a recognition of NashTech's efforts in not just enhancing our software development but also technology advisory and business process solutions, as well as our spirit of striving for the best. Moreover, this is a motivation for us to keep strengthening our capabilities and contributing to the ICT community in Vietnam for many years to come.
About NashTech
We are experts in technology, delivering smart solutions that solve business challenges and create value. Our award-winning teams apply deep expertise and passion to deliver complex IT projects globally. 
With thousands of technical experts based in our development centres in Vietnam, we have extensive knowledge and capability in all areas of technology and BPS for even the largest enterprise.
Contact
Name: Victoria Cowell, Marketing Director
Email: Victoria.cowell@nashtechglobal.com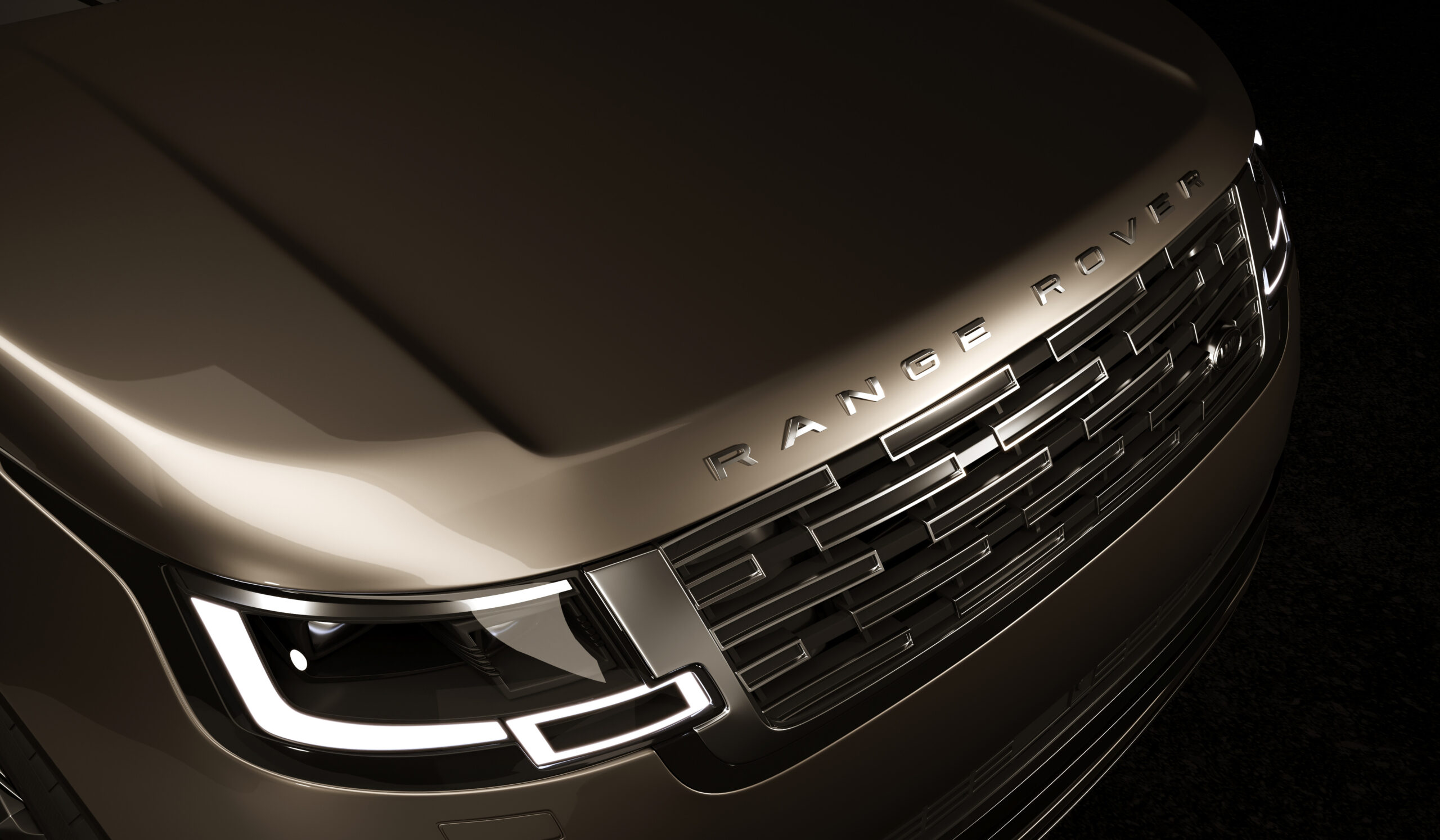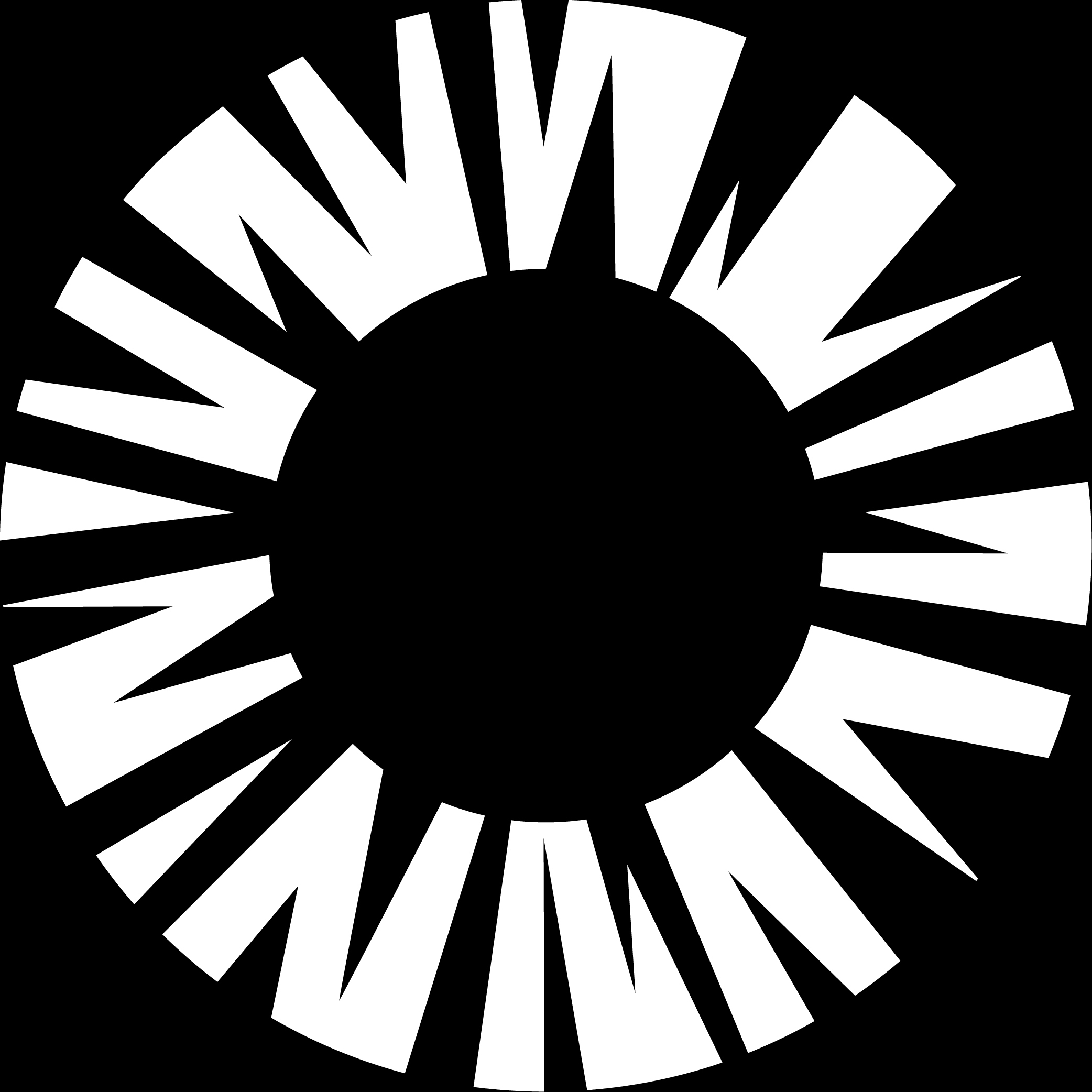 By working closely and collaboratively with the NashTech development team in Vietnam, they were able to build a high quality, digital first, luxury rental car service. Looking ahead into the future,...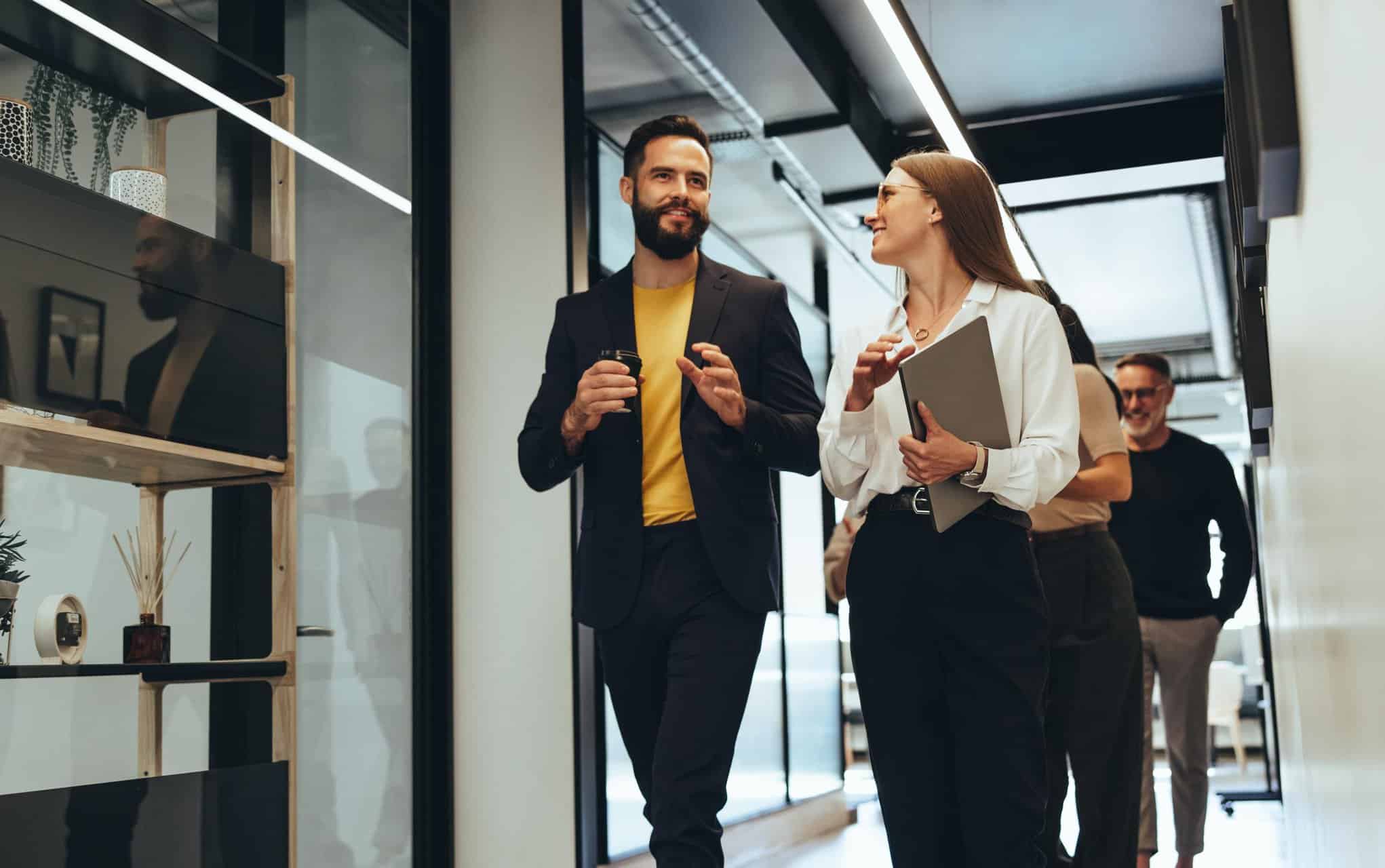 We collaborate with Pinsent Masons on their digital transformation journey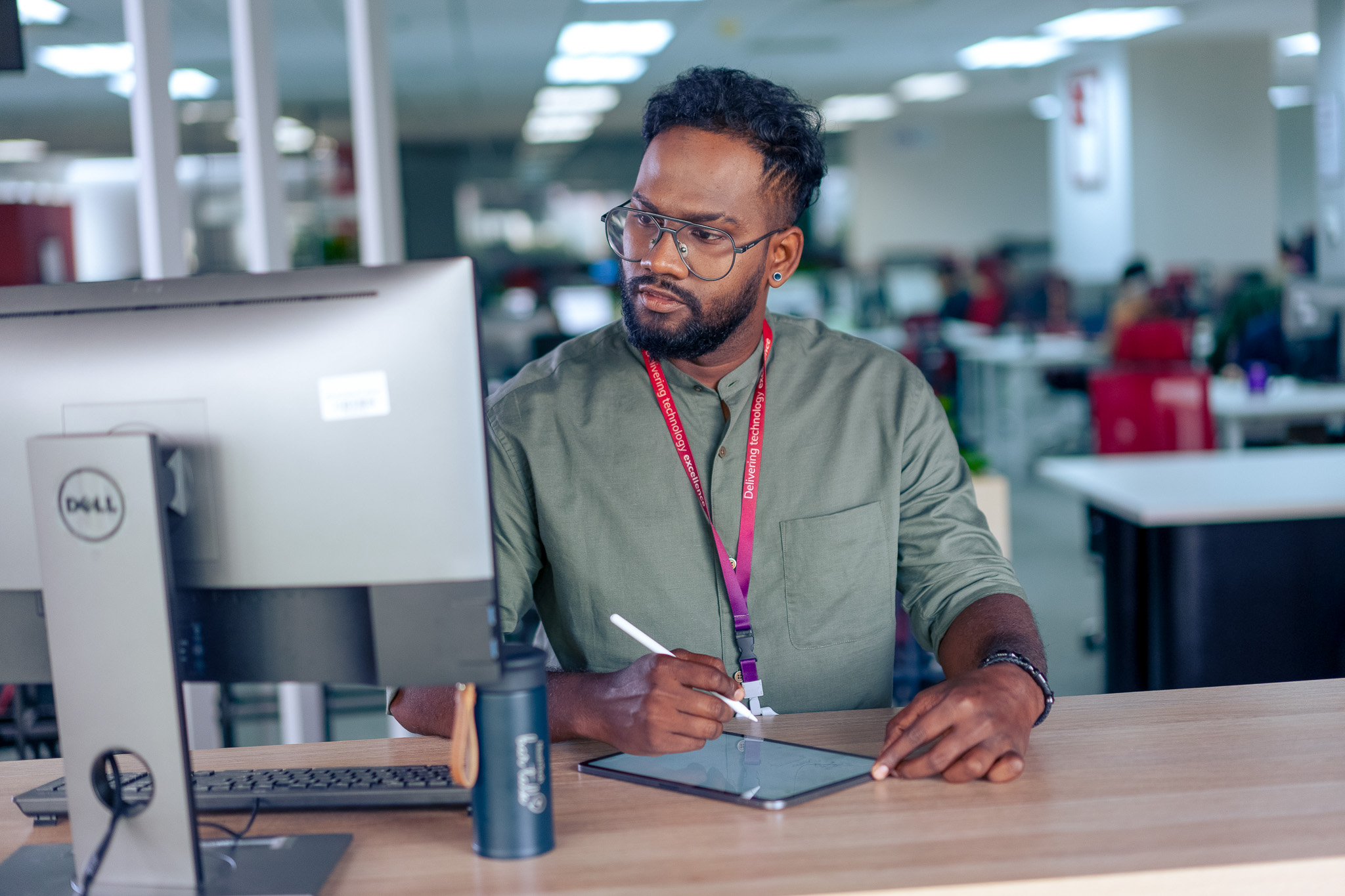 Find out how NashTech's internal desk booking software helped to drive efficiency in the workplace and measure occupancy rates with high accuracy.
Azure
Microsoft Power BI​
We help you understand your technology journey, navigate the complex world of data, digitise business process or provide a seamless user experience