Reassessing software services delivery with our agile methodology

Today many businesses are reassessing the way they deliver software solutions for their business transformation programmes. IT leaders are asking how to build quicker, more predictable outcomes with their outsourced teams whilst making it an easy and more cost-effective process. Alongside this is the imperative to build in greater resilience of service delivery leading to a review of delivery structures given the uncertainty of current times.
This is why at NashTech we believe our Real Offshore Agile Delivery (ROAD) approach is the way forward. A modernisation of your usual software development approach delivered by proven offshore technology partners in Vietnam that guarantee:
A collaborative and open approach
Built-in quality and value
Solid governance with total transparency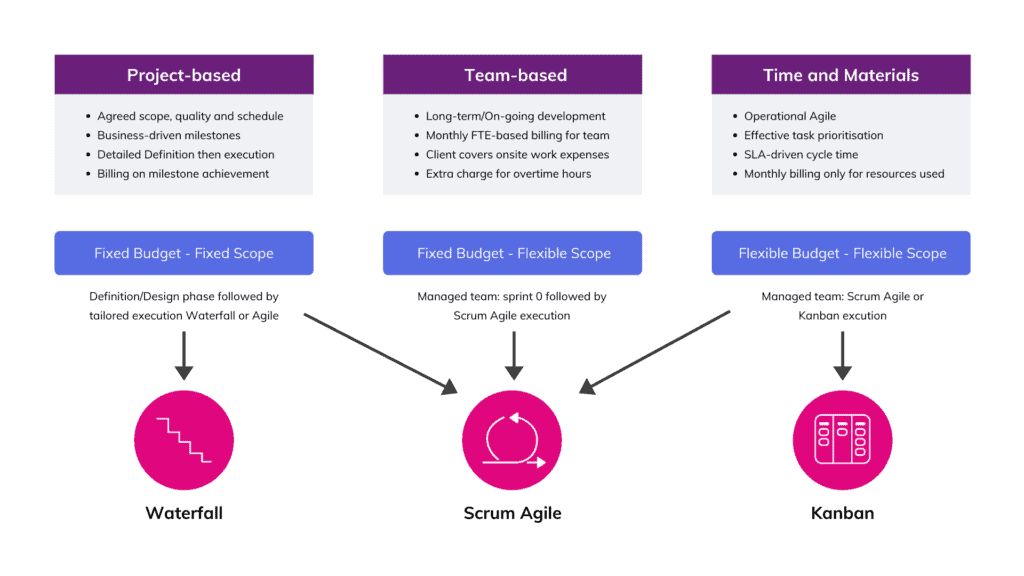 REAL differences, REAL results
Through continuous improvement of processes and feedback from our customers, we have identified 4 areas where NashTech truly differentiates in its offshore delivery model. These are major factors in ensuring successful project outcomes for our clients

Collaboration excellence: The Vietnamese working culture is naturally open, honest and team achievement-focused. This, combined with a great working relationship based upon supportive culture and a 'can-do' attitude of our people, creates a high level of transparency and trust between our clients and their delivery teams. At NashTech, we have maximised the opportunities of time zone difference to ensure your working day with the team is well-structured.

Quality delivery: Each of our projects includes Quality Control Engineers and representatives of our independent QA function, ensuring the highest appropriate level of test automation. Our developers are ISTQB qualified and the company is accredited to CMMI level 5 to ensure industry-standard deliverables.

Highly effective communication: We have over 1,500 developers with excellent soft skills who are adept at using tools to support effective team working. Our development centres in Vietnam are equipped with appropriate data security policies, systems and infrastructure to provide the optimal level of communication.

Solid governance: complex, multi-stakeholder projects leverage Prince2 or Scaled Agile governance (SAFe, NEXUS, SoS) to ensure high-level plans, designs and standards are properly outlined. Transparency is maintained through comprehensive metrics, rigorous risk assessment, mitigation and early corrective action.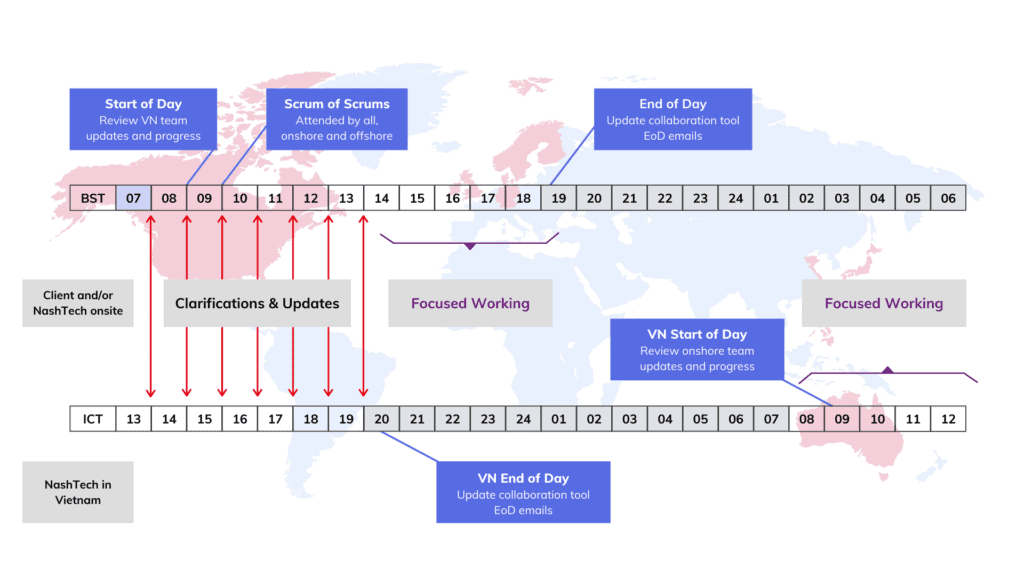 Global Collaboration – maximising the working day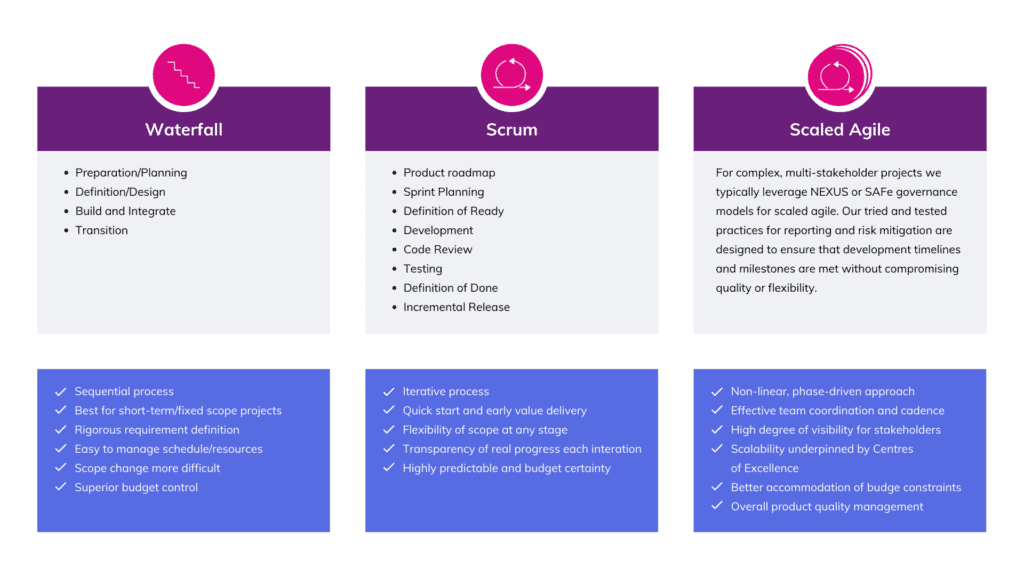 Development methodologies
What are the benefits of ROAD?

Predictable results: By following Scrum Agile, we agree on the size and shape of each sprint with you in advance. You set the priorities for what is going to be developed and you know what you are certain to get, when and how much it is going to cost.

Cost-effective: our team in Vietnam will deliver your work together with lean onshore engagement. Our proven collaboration model to reduces the overall cost but doesn't compromise on quality.

High quality: NashTech employs proven QC and QA practices across the whole software development lifecycle. We identify and fix problems early, we leverage appropriate test automation and this contributes to a high level of software quality.

Low risk: NashTech works to proven processes and focuses on ensuring effective collaboration and client engagement. This ensures our clients are in total control of their product development with full visibility of team performance and achievements.

Flexibility and speed: NashTech's approach puts flexibility as a top priority, thus providing business value, delivering usable features fast and reiterating quickly whilst ensuring our clients are in control.

Scalability: The ROAD framework is both adaptable and scalable to suit your organisation and its needs. Whether for fixed budget and fixed scope following a Waterfall approach or fixed budget and flexible scope following a Scaled Agile approach.
Contact us to find out more about how you can achieve this with our collaborative services approach.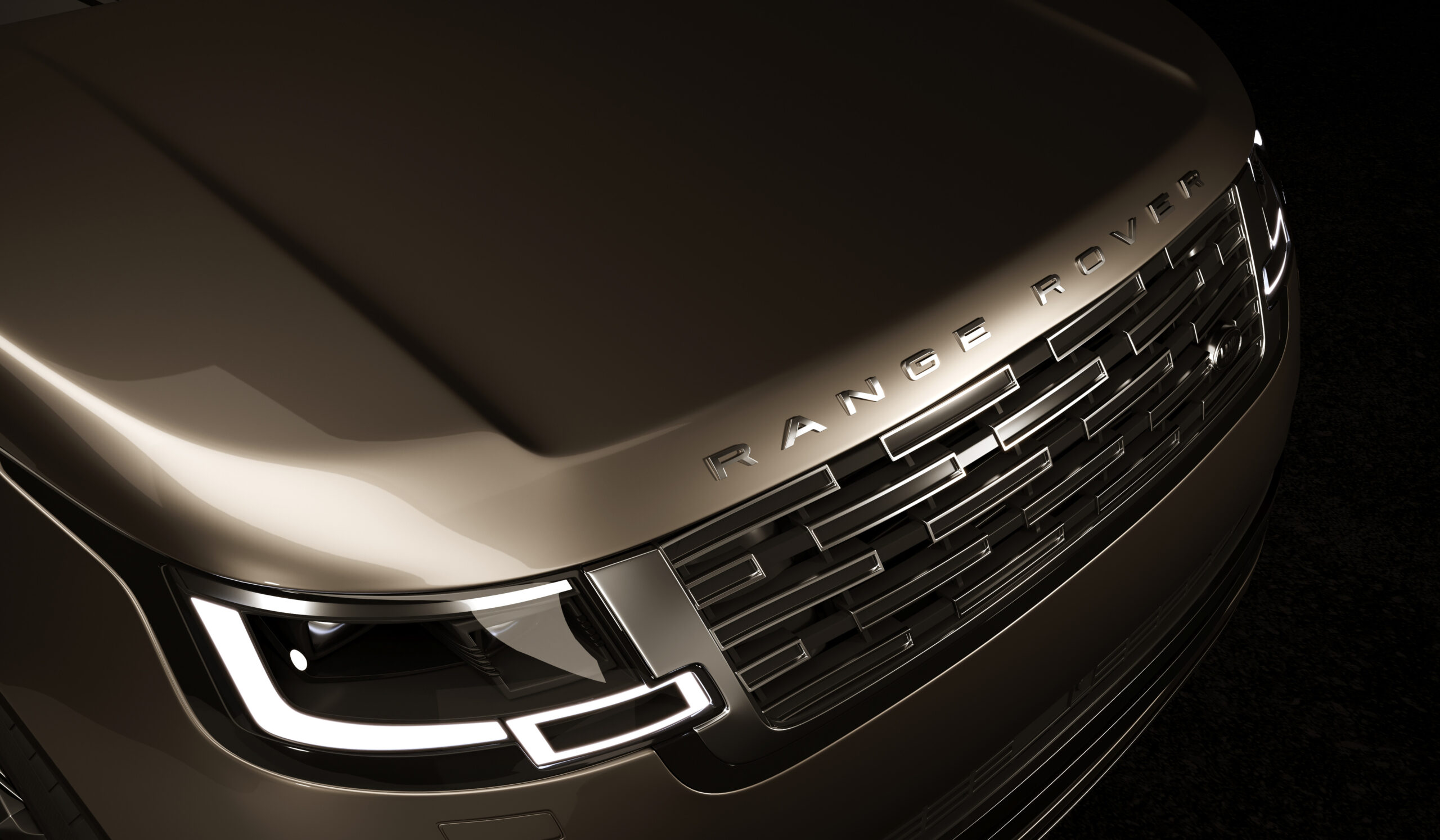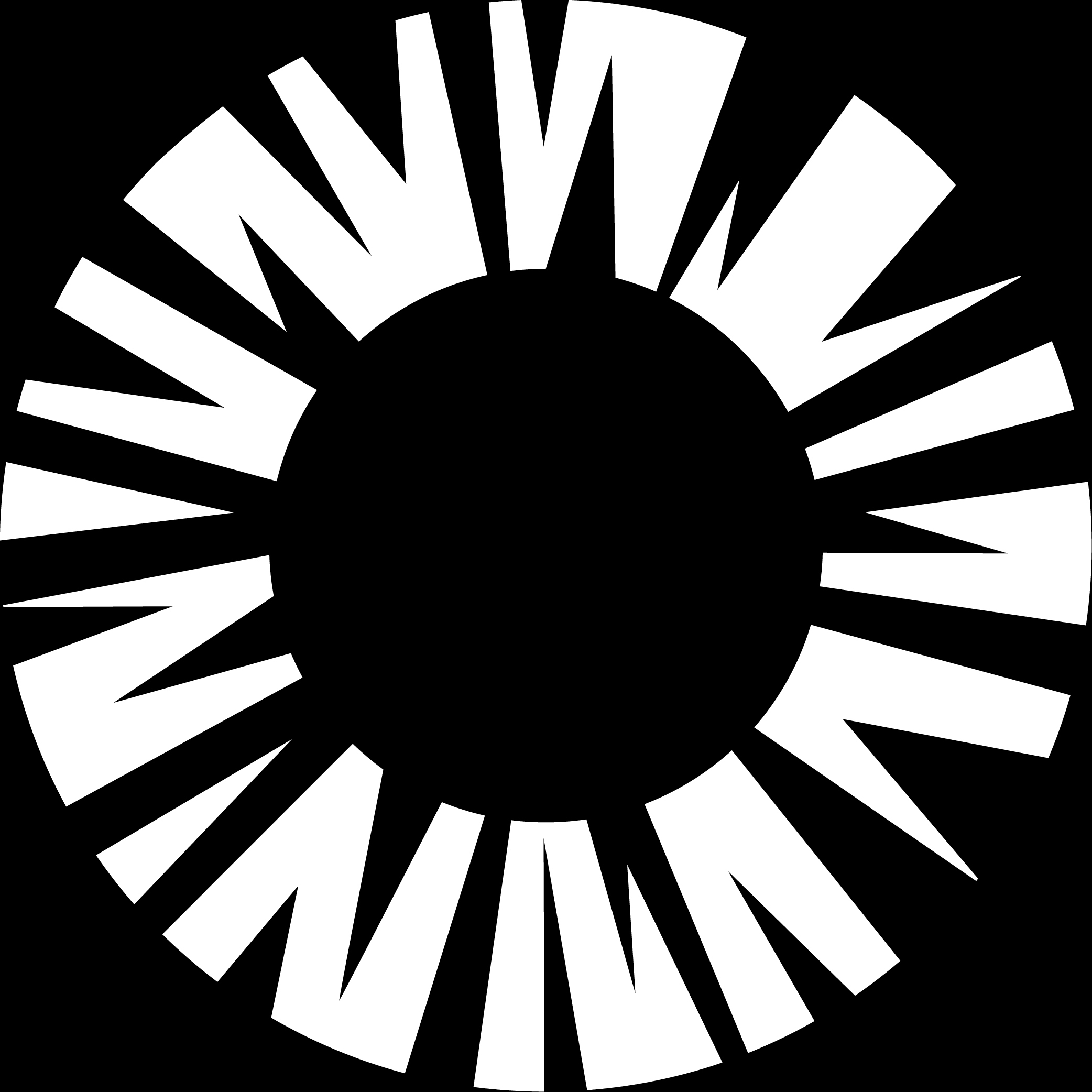 By working closely and collaboratively with the NashTech development team in Vietnam, they were able to build a high quality, digital first, luxury rental car service. Looking ahead into the future,...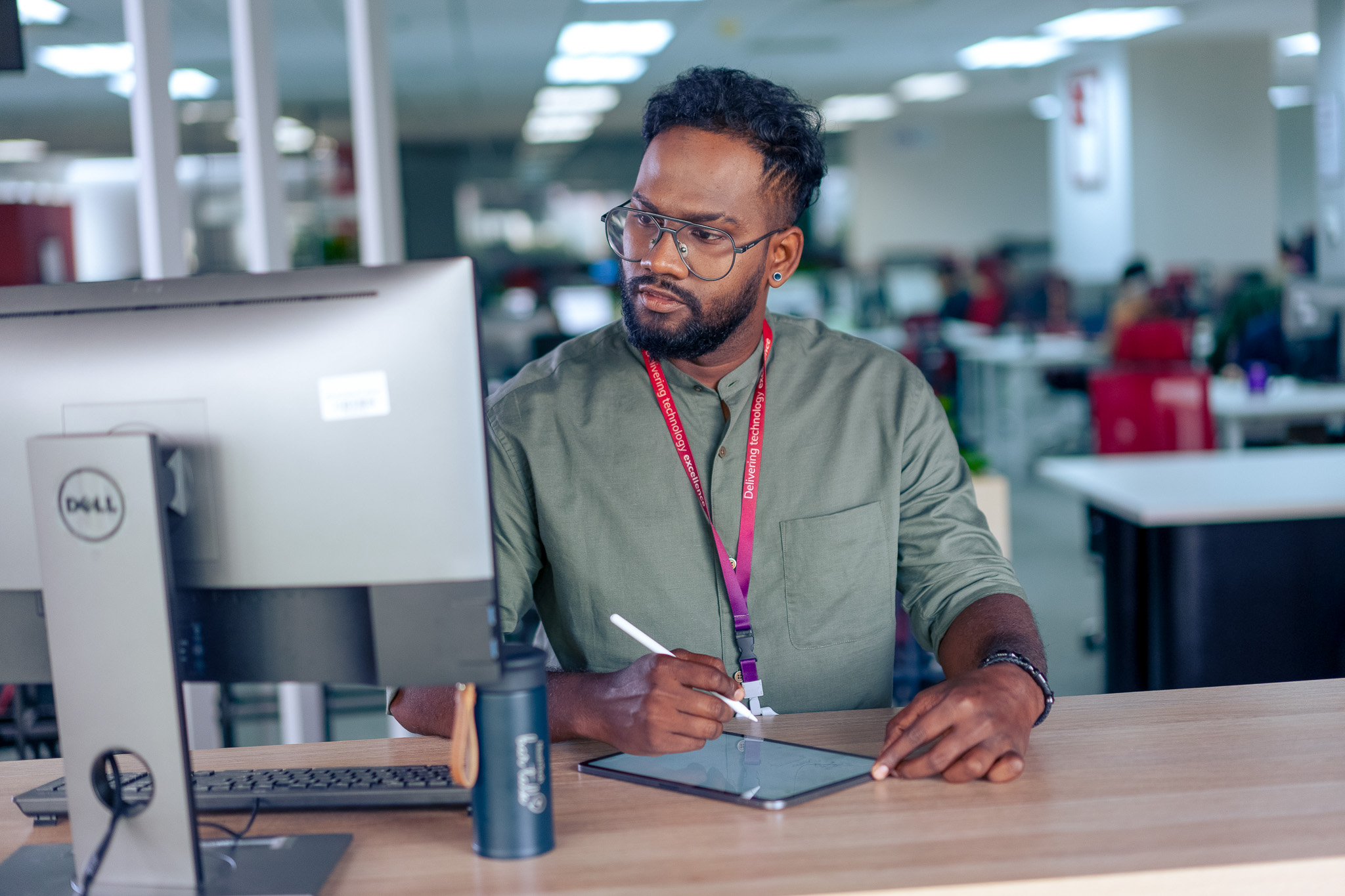 Find out how NashTech's internal desk booking software helped to drive efficiency in the workplace and measure occupancy rates with high accuracy.
Azure
Microsoft Power BI​


The Australian-founded advertising and media spend business now with a global footprint knows NashTech has been instrumental in supporting its growth.
We help you understand your technology journey, navigate the complex world of data, digitise business process or provide a seamless user experience