Poland recognised as attractive IT market

Emerging Europe and GBS World reports indicate Poland as one of the most attractive locations for IT investments in Central and Eastern Europe. Key players such as Microsoft and Google invested billions of US Dollars during last couple of years in the country. 
The Polish IT industry consists of more than 0.5 million IT engineers. As Emerging Europe – a social enterprise and a growth hub and website indicates their average salary is at 174% of the national average wage. Excellent quality of education as well as the rising number of college students and fluency in English were mentioned as key features that attract companies.
Euronews says "Warsaw, in particular, has become a hub of economic activity in recent years, with multinational companies such as Microsoft, Google, and Nvidia attracted by the educated workforce, and relatively low cost of living and labour costs." 
According to the Polish Prime Minister, Mateusz Morawiecki, Poland, for the first time, has a chance to be part of global digital transformation and benefit greatly from this. These words were said at a conference where Microsoft announced it is launching the first cloud data processing centre in Central and Eastern Europe, based in Europe. This announcement was recognised as a big step in the Polish IT market, not only because Microsoft is planning to invest roughly one billion US Dollars, but Google also opened a centre of cloud data processing and services in April 2021 in Warsaw.  Now Google employs over 1000 staff, including 600 IT engineers, and the centre in Warsaw is the biggest Google cloud development facility in Europe. 
The 2022 report from GBS World places Poland on the top of world's most preferred countries for outsourcing for technical support. The same report indicates Poland as the second country (ex aequo with Philippines) for outsourcing of IT services; first place is still held by India while third place is occupied by both Egypt and Malaysia. This ranking was prepared based on interviews with managers from over 380 global firms. It is noticeable that top places are held mainly by Asian countries, with Poland as the only European representative which may prove increasing importance and attractiveness of Eastern European markets. 
Country of

leading capabilities for start-ups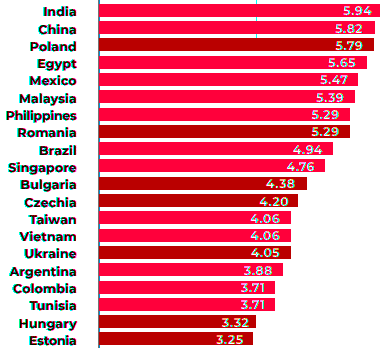 Emerging Europe confirms in their April report that Poland holds the third place in terms of competitiveness among 23 countries in Central and Eastern Europe. Poland has won the ranking in the category of employee education and readiness. Furthermore, in 11 out of 45 categories Poland was located at no worse place than the fourth. 
"Consequently, Poland was rated the best delivery offshore location for technical and helpdesk support, while it took the top spot for general ITO, software development and data analytics and science services on the regional front" – the report states. Currently there are more than three thousand start-ups and over 100 incubators and accelerators operating in Poland. 
NashTech

in Poland
In 2020 NashTech made the decision to invest in Poland and opened a development centre in Krakow, Poland. Following this trend, NashTech now continues its operation in this country holding key capabilities in delivery of Business Process Services and Robotic Process Automation services.  
This decision let NashTech not only to expand their presence on global market but also allowed to hire one of the best specialists and offer services at best level of quality. As many IT companies have their offshore centres in Asia when operating on their key markets in Europe, Middle East and America, having a near-shore competence centre is a big facilitation for both – vendors and clients.
"Working in a similar time zone to our clients make the work process smoother and more efficient. This enhanced accessibility and flexibility enable me to respond promptly to our customers' needs, providing them with swift and satisfactory solutions. Moreover, as we share cultural similarities, it often leads to synchronized public holidays, further facilitating seamless communication and collaboration." 

Martyna Grabowska, Business Analytst at NashTech
Well-known follow-the-sun pattern has its great use when working from Central Europe as this covers late afternoon hours in Far East as well as morning hours in both Americas. Customers are also very often interested in having a near-shore partners – "Establishing competence centres has consistently proven to be a cost-effective solution for acquiring essential expertise without the need for in-house resources. Opting for locations near the core business operations simplifies management and oversight. Close distance allows for frequent in-person meetings, fostering stronger collaboration and relationship building." – Grabowska states. Despite Poland is not the only country having people with strong IT competences and expertise, it appears it has one of the biggest IT job market in the region. 
Sources:
Salon24.pl – Polska atrakcyjnym rynkiem dla branży IT. Koncerny biją się o polskich informatyków, access May 8th, 2023, 
Euronews.com – Poland's reverse brain drain: Meet the Poles returning home to work in its booming tech sector, access May 8th, 2023, 
Future of IT 2023 – The ultimate guide for IT buyers, investors and experts, Emerging Europe, April 2023 
We help you understand your technology journey, navigate the complex world of data, digitise business process or provide a seamless user experience